Honey massage
Honey Massage has been a great solution to body treatment for several years. It's just one simple ingredient, but there are so many advantages. It's a case of the sum being more than the parts done with only pure natural honey.
When applied, honey acts as a humectant. That is, it attracts and promotes the retention of water helping to keep your skin moisturized. It's anti-bacterial, anti-fungal, and anti-viral making; it is an ideal body treatment. It softens and hydrates the skin. It also comprises several vitamins and minerals which will be absorbed into the skin.
Honey is also suitable for all skin types. Works as anti-inflammatory and aids in relaxation .it's simple and very effective. Honey massage incorporates the healing effects of honey and the beneficial ingredients that honey contains. During the massage, beneficial substances from the honey are absorbed directly into the skin and trapped salts and toxins are loosened. As an added benefit, the muscles are stretched and loosened.
Furthermore, Honey massage will help to light suction provides drainage of toxins and excess fluids, whilst heavier suction can stimulate blood circulation to stagnant muscles and loosen fibrous adhesions, Cleanse, moisturize, nourish the skin and increase its elasticity (It is safe for very sensitive skins) Produce soothing and rejuvenating effects and eliminate acne, help dry and itchy skin. Honey massage is a good solution in winter when you are ill. It will give you a pleasant sense of warmth for the whole day; your skin will become silky. Honey massage is very pleasant and unusual, it relaxes and energizes. Slight bruising might follow after the massage but will fade away during a few days.
It should be noted that Honey Massage might not be a suitable option for people with body hair.
The impact of the honey massage is superb and will be felt almost instantly following every single treatment, assisting to enhance vitality and relaxing your mind and body.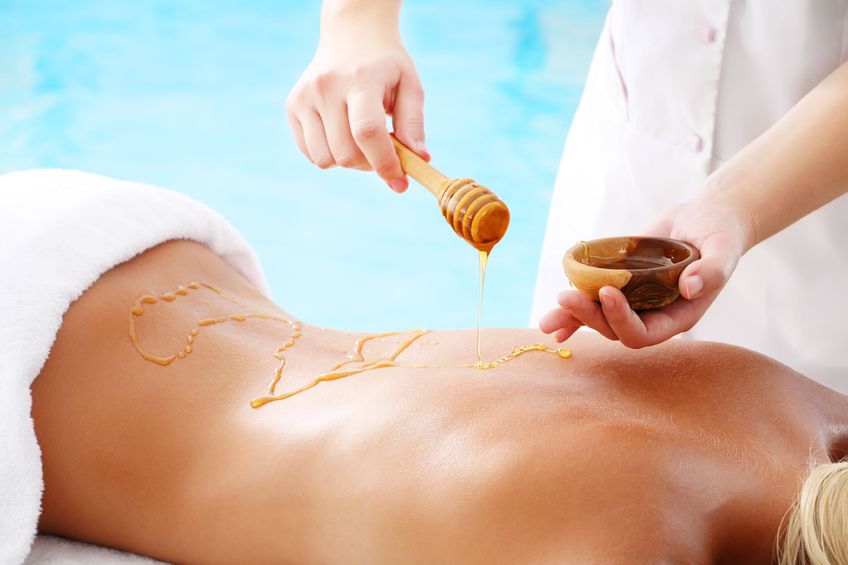 Massage
Time
Price
Full Body
60min
£50