Relax And Therapy Massage
The Relax & Therapy massage is based on many techniques derived from other types of massage and the experience of working with clients.
It is a unique approach towards the client-patient relationship, one which is not shared by the more common types and techniques of massage. Relax & Therapy is not limited to massage only, but it is a general and holistic approach before, during, and after the massage procedure. The aim of the Relax & Therapy massage is more than just to help the patient loosen up, calm down, and relax. Above all it acts therapeutically,
preventing and relieving pain and removing tension in soft tissues. This combination of relaxation and therapy means that you will leave our studio not just wonderfully relaxed, but also relieved of pain, tension,
stress, and other types of discomfort. This type of massage addresses the needs of everyday life as it often involves rush, stress, numerous emotional problems, a sedentary lifestyle,
absence of physical activities, or lack of leisure time.
The massage incorporates various techniques from other types of massage:
Deep-tissue massage - irreplaceable in working on removing pain in deep tissues, excessive muscle tension, and trigger points; it reduces movement limitations in joints and restores muscle balance.
- Hawaiian LOMI LOMI NUI massage - which provides flow, rhythm and lightness to the massage. It teaches how to work with the body and the spirit while restoring balance to the whole body and psyche. Its elements make our massage unique and will make you feel very relaxed and relieved from all tension.
- Classic massage - the basis of many types of massage. Its techniques such as brushing, rubbing, or vibrations are used in majority of massage types available on the market and that is why our unique type of massage also cannot do without such techniques.
- Thai massage - also known as lazy man's Yoga. Several positions and techniques that involve stretching and application of pressure have been incorporated from Thai massage to Relax & Therapy.
- California massage - a deeply relaxing massage that relieves stress, eases tension, and calms the mind. This massage is very rhythmical; it provides flow and energizes the organism.
- Our own techniques and inspirations - these include techniques developed by the author of Relax & Therapy. It is the sum of our professional experience and work which we apply to relaxing massage in order to make it truly therapeutic and relaxing.
- Working on the foot - it is a method based on techniques for soft-tissue massage in order to restore proper tone in the foot. These techniques are used in treating such conditions as calcaneal spur, pain caused by bunions, tired feet and others. Working with the foot involves also massaging the calf and the tissues of the foot. The therapeutic techniques include deep-tissue massage, isometric relaxation, myofascial release and active release.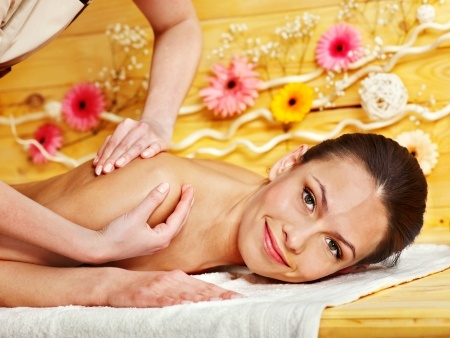 Time
Price
Full body
90min
£85
Full body
120min
£99